---
Building Code Reports
Hubbell Power Systems, Inc. maintains an ICC Evaluation Service report ESR-2794 for the U.S. and Evaluation Report CCMC 13193-R for Canada. This demonstrates that our systems have been independently evaluated by a third party administrator to ensure that our products meet building code requirements.
CHANCE Brand SS5 and SS175 Helical Systems & Devices are now ICC-ES evaluated.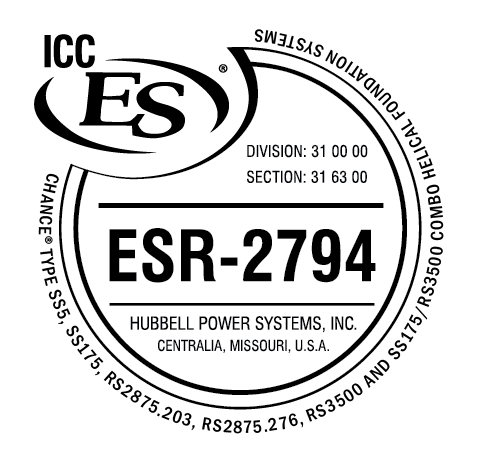 CHANCE Brand SS5 and SS175 products, manufactured by Hubbell Power Systems, Inc. (HPS), received a comprehensive evaluation report ESR-2794 from ICC Evaluation Service (ICC-ES), providing evidence that SS5 and SS175 helical systems and devices are in compliance with code requirements. Building officials, architects, contractors, specifiers, designers and others utilize the ICC-ES Evaluation Reports to provide a basis for using or approving helical anchors and piles in construction projects.
ICC-ES President Mark Johnson explains why ICC-ES Evaluation Reports are so important. "HPS -CHANCE can now reference the evaluation report to ensure building officials and the building industry that the product meets I-Code requirements," Johnson said. "Building departments have a long history of using evaluation reports, and ICC-ES operates as a technical resource for the building department. Final approval of building products is always in the hands of the local regulatory agency."
ICC-ES thoroughly examined HPS-CHANCE's product information, test reports, calculations, quality control methods and other factors to ensure the product is code compliant. "The product evaluation was a lengthy process. The Staff at ICC-ES leaves no stone unturned in their effort to ensure the products being evaluated are compliant with the Code" says Gary Seider, Engineering Manager for HPS.
ICC-ES is the United States' leading source of technical information on building products and building technology for code compliance. A nonprofit, public-benefit corporation, ICC-ES performs technical evaluations of building products, components, methods and materials. The evaluation process culminates with the issuance of reports on compliance with the major U.S. building codes, which are available at www.icc-es.org.
HPS is a division of Hubbell Incorporated, an international manufacturer of quality electrical and electronic products for a broad range of non-residential and residential construction, industrial and utility applications. HPS manufacturers a wide variety of transmission, distribution, substation, OEM and telecommunications products used by power utilities. In addition, HPS products are used in the civil construction, transportation, gas and water industries. Products include construction and switching products, tools, insulators, arresters, pole line hardware, cable accessories, test equipment, transformer bushings and polymer precast enclosures and equipment pads.